Margate Rain Gutter Repair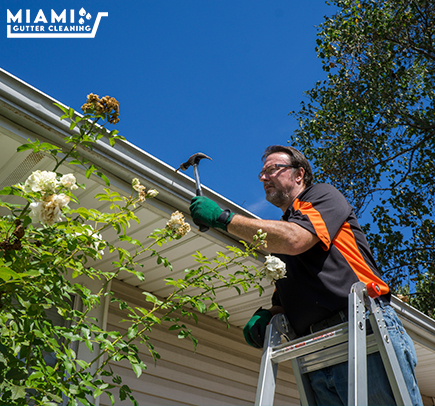 Are you looking for a Margate rain gutter repair service near you? One that is budget-friendly and provided by professionals? Miami Gutter Cleaning can help you save thousands of dollars in home damages by repairing your gutters fast and efficiently with our Margate rain gutter repair services.
During our over 20 years of experience, we have provided rain gutter repair services in Margate and fixed various problems, including sagging gutters, dented, improperly pitched, leaking, loose, with missing parts, or ridden with rotten wood or fascia board.
If you are experiencing these problems, and you live in Margate, we can help you out with our rain gutter repair services. Our company will deliver a high-quality Margate rain gutter repair service performed by a team of experts equipped with top-notch gear to meet all your rain gutter repair requirements.
The fact is that gutters need regular upkeep and repair, no matter how good or new your gutter system is. Gutter systems can show signs of damage due to certain circumstances or normal deterioration. Getting your rain gutters fixed as soon as issues arise with a trustworthy rain gutter repair service in Margate is crucial. Don't let a single trickle destroy your property's appearance and safety. And remember that trivial damages can turn into thousands of dollars worth of repairs.
Our Margate Rain Gutter Repair Services
Hire our dependable rain gutter repair service in Margate to assist you with the following:
Repair bending gutters
Replacing gutter/downspout extensions
Repair leaks and holes
Reattaching or switching hangers
Fixing the downspout bracket
Cleaning clogged gutters and downspouts
Substituting miters or corners
Waterproofing seams and end caps
As stated before, performing rain gutter repair services requires skillfulness and extensive installation knowledge. Miami Gutter Cleaning prides itself on providing the most comprehensive rain gutter repair services in Margate. Our rain gutter repair experts will work methodically and competently to solve all these issues and leave you with a flawless gutter system.
Secure our Margate rain gutter repair services by calling
(786) 676-8259
or fill out our website's
Contact Us
form. We will fix your rain gutters flawlessly to give you a seamless gutter system that will last for many years to come!